Monthly house price growth rose to 0.5% in February following a slower start to the year while on an annual basis prices hit a new record high, the latest Halifax house price data shows.
The annual rate of growth at +10.8% is the strongest level seen since June 2007 (+11.9%) while average house prices reached another new record high of £278,123.
However, Halifax warned that the squeeze on household finances is still expected to weigh on the market this year.
Russell Galley, managing director, Halifax, said: "The UK housing market shrugged off a slightly slower start to the year with average property prices rising by another 0.5% in February, or £1,478 in cash terms.
"This was an eighth successive month of house price growth, as the resilience which has typified the market throughout the pandemic shows little sign of easing.
"Year-on-year prices grew by 10.8%, the fastest pace of annual growth since June 2007, pushing the average house price up to another record high of £278,123.
"Two years on from the start of the pandemic, average property values have now risen by £38,709 (+16%) since February 2020. Over the last 12 months alone house prices have gained on average £27,215. This is the biggest one-year cash rise recorded in over 39 years of index history.
"Lack of supply continues to underpin rising house prices, with recent industry surveys showing a dearth of new properties being listed, now a long-term trend. This may be a particular issue at the larger end of the property market. Over the past year the average price of detached properties (£43,251, +11%) have risen at a rate more than four times that of flats (£10,462, +7%) in cash terms.
"Looking ahead, as Covid moves into an endemic phase and almost all domestic restrictions are removed, geopolitical events expose the UK to new sources of uncertainty. The war in Ukraine is a human tragedy, but is also likely to have effects on confidence, trade and global supply chains.
"Surging oil and gas prices are one immediate consequence, meaning that inflation in the UK – already at a 30-year peak – will remain higher for longer. This will add to the squeeze on already stretched household incomes.
"While increases in Bank Rate look likely in the near term, the extent of the rises will depend on how it affects prices and companies' approaches to pay over the months to come.
"These factors are likely to weigh on buyer demand as the year progresses, with market activity likely to return to more normal levels and an easing of house price growth to be expected."
Double-digit growth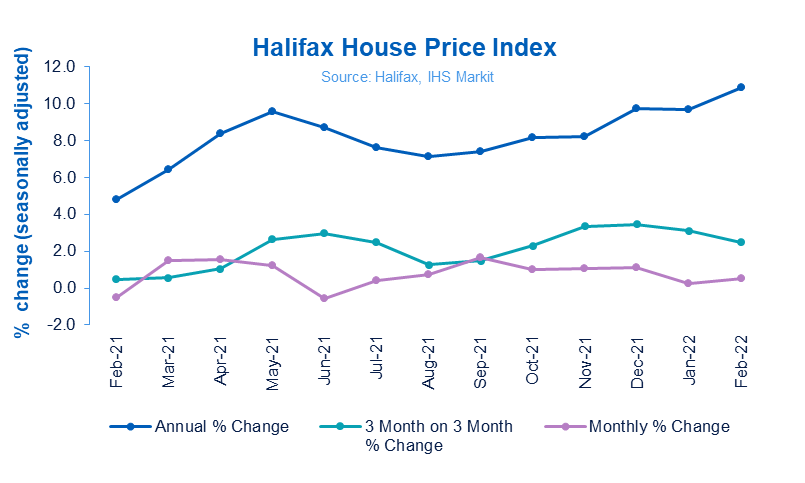 Seven UK areas are now seeing double-digit annual house price inflation, highlighting not only the strength but the breadth of gains across the country.
Wales was once again the strongest performing nation or region, with annual house price growth of 13.8%, largely unchanged since January, with the average property price rising to £207,184.
The South West of England also continues to record big gains. Annual house price inflation is now up to 13.4%, with by far the strongest quarterly growth (3.5%) of any region (average house price of £293,968).
While there will be a variety of local factors influencing the strength of these respective housing markets, it's notable that both areas benefit from greater availability of more rural, scenic living which has proven to be so popular amongst buyers throughout the pandemic.
Elsewhere Northern Ireland also continues to record strong price growth, with prices up 13.1% on this time last year, giving an average property value in February of £173,911.
House price growth remains robust in Scotland too. That said, despite the annual rate of house price growth picking up to 9.2%, remarkably Scotland now has the 'weakest' rate of annual growth of any area outside of London, again testament to the strength of house prices right across the UK. The average property price edged up to £193,777 in February.
As indicated above London remains the weakest performing area of the UK, though the capital continued its recent upward trend with annual house price inflation now standing at 5.4%, its strongest level since the end of 2020.
Reaction
Lewis Shaw, founder of Mansfield-based independent mortgage broker, Shaw Financial Services:
"The UK property market has gone down the rabbit hole. In a harsh climate of rising interest rates, raging inflation and impending National Insurance tax hikes, the property market dances to its own tune and prices continue to rise. Economic logic suggests prices should be coming down but the surreal lack of stock is keeping values buoyant."
Ross Boyd, founder of the always-on mortgage comparison platform, Dashly.com:
"The lack of supply is less a long-term trend than a law of the UK property market. Equally, demand is still rampant, despite the economic fundamentals suggesting it shouldn't be.
"Two years on from the start of the pandemic, the race for space is still real and this seismic change in property requirements continues to fuel demand.
"But as the Halifax notes, there is the potential for significant turbulence ahead, both economic and geopolitical. The major challenges facing the market right now are a scandalous lack of stock, interest rate rises, the surging cost of living and the tragic war in Ukraine. Against this backdrop, the market is likely to slow as we progress through the year."
Andrew Montlake, managing director of the UK-wide mortgage broker, Coreco:
"Amid a pandemic and severe cost of living crisis, only the UK property market could record the biggest one-year cash rise recorded in over 39 years of index history.
"However, there are dark clouds on the horizon. Interest rates are set to rise further to bring inflation to heel, tax hikes are getting ever closer and energy and grocery bills are going through the roof.
"Moving forward, it's likely that people's borrowing power will wane as lenders take into account these extra costs and that will cause the market to cool down. But even though rates are rising, we remain in an extremely low interest rate environment with competition among lenders fierce and this will continue to drive a certain level of transactions."
Graham Cox, founder of the Bristol-based Self-Employed Mortgage Hub:
"The age of ultra-cheap credit, which has been propping up the housing market for more than a decade, is over. Some are predicting inflation as high as 10% inflation, with energy bills reaching an eye-watering £3,000 this year.
"If that happens, I can only see house prices falling, because higher mortgage rates and the cost of living crisis will have a huge bearing on mortgage affordability. It's also entirely possible that lenders, fearing lower property values, could pull 95% LTV deals altogether. Fewer first-time buyers means fewer transactions, piling further downward pressure on house prices.
"Though this latest house price index suggests the show goes on, the reality is that, for the UK property market, the show may soon be over."
Jonathan Burridge, founding adviser at hybrid mortgage adviser, We Are Money:
"We have many of the ingredients in the pot for a significant recession and so it's important to note that this house price index looks back not forward. We have seen high property demand for over a decade and it is naive to believe this will carry on.
"Covid has delayed the full impact of the UK leaving the EU and we are now experiencing the financial impact of the pandemic, along with a war in Eastern Europe. There is a storm brewing."
Marcus Wright, MD of property broker, Bolton Business Finance:
"Many of our landlord and property developer clients are expecting business as usual this year. They are continuing to invest and are expecting another good year for UK house prices.
"Demand from buyers is still strong and buy-to-let mortgage rates have only seen minor increases since the recent Bank of England rate rises given the level of competition among lenders.
"Overall, the outlook remains oddly positive amid the cost of living crisis, but if inflation continues on its upwards trajectory, things may well change. Any escalation of the war in Ukraine could also impact the market."
Jamie Thompson of Manchester-based Jamie Thompson Mortgages:
"Unsurprisingly, Britons continue to want to live in houses that they own. Given that there are more people wanting to own their own abode than there are abodes available to buy, the increase in house prices continues to outstrip inflation and wage growth yet again.
"The only saving grace for first-time buyers is that yet another lender is now allowing them to borrow 5.5 times their income, in turn sending house prices even higher. The market giveth and the market taketh away."
Rob Gill, founder of London-based Altura Mortgage Finance:
"February saw the UK property market once again outperform, as the radical imbalance between supply and demand ruled supreme. First-time buyers, in particular, have been taking advantage of decreased competition for flats, especially those without outside space, as families seek to trade up for more space in the post-pandemic era.
"Flats also have less competition from landlords who have faced an increasing squeeze in recent years from lower tax breaks and higher regulatory costs."
Tomer Aboody, director of property lender MT Finance:
"The biggest rise in house prices since 2007 is further proof of lack of supply, with buyers pushing themselves and stretching to their maximum borrowing capacity in order to secure their new home.
"Low interest rates are fuelling and encouraging buyers to borrow, before further rate increase come. With higher rates and cost of living on the rise, these could trigger a turn in the market in the near future."
Jeremy Leaf, north London estate agent and a former RICS residential chairman:
"Prices may be continuing to rise to record levels but looking behind the numbers we are finding in our offices that this is more as a direct result of lack of choice, which is also compromising the number of transactions.
"Prices are unlikely to continue their mighty gains as affordability is becoming increasingly stretched, with events in Ukraine likely to send inflation and especially energy costs even higher.'
Mark Harris, chief executive of mortgage broker SPF Private Clients:
"With house prices continuing to rise, how big a mortgage a borrower can take on is a growing issue.
"Mortgage pricing remains incredibly dynamic, with lenders rapidly changing once they find themselves top dog, offering the most competitive products. Borrowers must move quickly to secure a rate even though expectations of an interest rate rise at the Bank's next meeting are being pared back given the Russia/Ukraine conflict and its direct and indirect effects on the UK economy."
Nicky Stevenson, managing director at national estate agent group Fine & Country:
"House price growth has climbed back into the double digits again despite a brief respite at the beginning of the year.
"While many have lowered their growth forecasts for 2022, this latest data may give them pause for thought.
"Though higher borrowing costs and commodity prices may have stretched affordability, we are still experiencing upward momentum more than a year after this boom began.
"Elevated uncertainty in the broader economy has yet to have any discernible effect and persistent high price growth is likely to remain the norm unless we see a profound increase in new listings later in the year."
Jonathan Hopper, CEO of Garrington Property Finders:
"This rally is still being propped up by the long tail of buyers who sense interest rates may not be this low again in their lifetimes.
"This is the major motivating factor driving not just first-time buyers to act sooner but home movers too. That's where nearly all the demand that is overpowering supply is coming from.
"Little wonder then that this is the eighth month in a row to see record house prices but, as soon as buyers cease to be funnelled toward the slim pickings currently on offer, this streak will end. For now, stock levels are still low and only just beginning to show signs of improvement.
"Consumer confidence may be under pressure but the tens of thousands of pounds that have accrued in the average home over the past two years places property on its own peculiar pedestal. Confidence will never have been higher that, in times of trouble, property is one of the safest places to put your money."
Nathan Emerson, Propertymark CEO:
"Estate agents are still reporting bidding wars and buyers who are migrating. Migration means that some buyers can bring with them a larger budget, especially if they are moving away from a city which can filter through to higher purchase prices.
"Many buyers who have lost out are still waiting in the wings. In January, our agents reported registering an average of 100 new potential buyers per branch. 
"Coming into February we have seen an increasing number of valuation appointments and we are hopeful that more sellers will come to the market which will help to ease price rises."